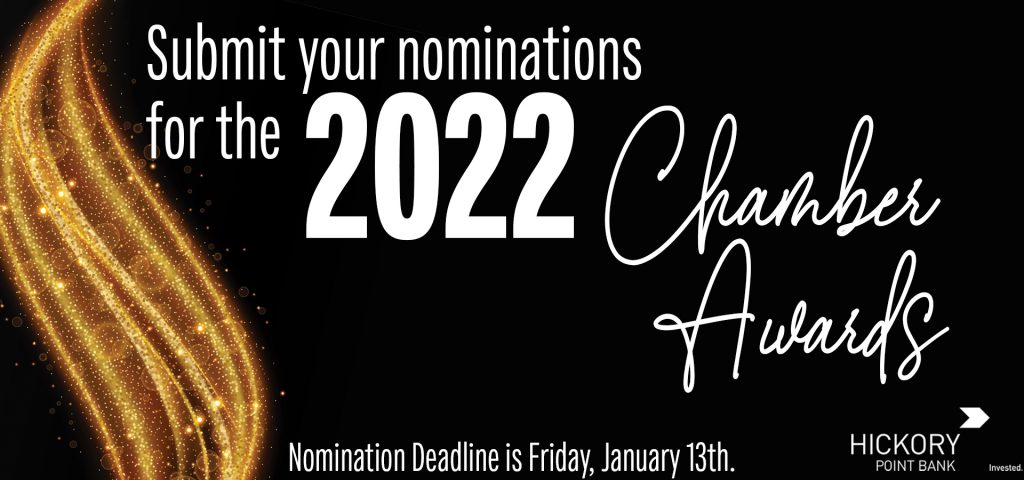 Nominations are now open for the 2022 Chamber Awards, sponsored by Hickory Point Bank and Trust. Winners are selected this year in each of five categories: Ambassador of the Year, 2022 Community Contributor of the Year, Entrepreneur of the Year, Non-Profit of the Year, and Small Business of the Year.
 See below for award criteria.
Click on awards for nomination form 
This will be awarded to the Chamber member business who has consistently demonstrated qualities of compassion, and service to either one organization or a variety of volunteer activities in one year. The charitable activities/events or service listed cannot be part of the nominee's job description or duties.
This will be awarded to the individual who demonstrates strength of motivation while displaying creative and innovative business practices to achieve success.
This is awarded to a Chamber member business with less than 100 employees. Nominations should include information on the growth of the business over the last 12 months, their positive impact on the community, and any creative and innovative business practices.
The Ambassador of the Year Award is awarded to one Decatur Regional Chamber of Commerce Ambassador that exemplifies volunteerism, attends chamber functions, such as Ribbon Cuttings, Business After Hours, and is willing to help with any activities that may come along. Click Here for Ambassadors List
This will be awarded to the organization demonstrating effectiveness in meeting their mission, as well as their creative and innovative ideas in moving their mission forward.